---
"No More Fussing When Trimming Your Baby's Nails"
Are you having difficulty trimming your child's nails? Are you looking for a safe and easy way to do so? If so, this product well help you tremendously: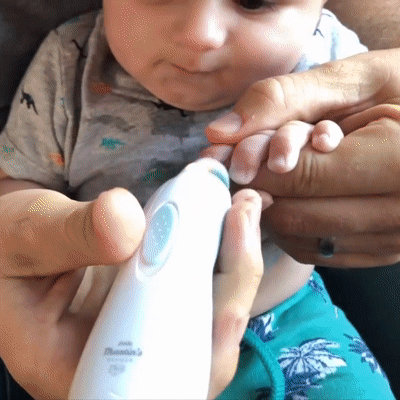 Cutting my daughters nails gives me like many parents anxiety every-time 😰 but I knew I needed a solution when our daughter began scratching her face in her sleep. 
Our nail trimmer is specifically designed to safely and quickly trim and polish little toe and fingernails for both babies as well as adults. It is super soft and will not damage cuticles or nail beds.
No need for nail clippers, no need to fear cutting a babies little finger with nail clippers. Safe and easy trimmers for newborn nails or adults.
Features
 1. Easy To Use - You may swiftly and safely trim and polish little toenails and fingernails with this nail trimmer because it won't harm the cuticles or fragile nail beds.
2. Portable For Use Anywhere - This one-button device is the ideal infant or parent present for usage at home or when traveling. It is powered by two AA batteries.
3. Easy Controls -Control speed (high/low) and rotation (clockwise/reverse) to optimize nail trimming positions for softer and smoother nails.
4. Won't Disturb Your Baby - With its whisper-quiet motor and LED front light, you can cut their nails while they're sleeping without waking them up.
SPECIFICATIONS
Item Type: Clipper & Trimmer
Color: Light pink
Age Range: 0-6m,7-12m,13-24m
Package includes:
1 * Baby Electric Nail Grinder
Chek up
Mujay is waqt dilivery nahe howe jab mil jayega comnts me bata donga